Fenton Plates
Fenton plates are a favorite among Fenton collectors. The Fenton collection offers a wide variety of plates, including cake plates, candle plates, and plates meant to be displayed using a plate stand or wall hanging.
Fenton glass was the amazing idea of two brothers, John and Frank Fenton, who desired to create a more interesting and beautiful offering of glass products through the use of an exotic color palate and amazing hand painted details. Some of these details are even through the use of 22 karat gold features to give the glass pieces extra sparkle and value. Fenton doesn't only offer plates, but also candlesticks, lamps, bells, dishes, and pitchers for the avid collector.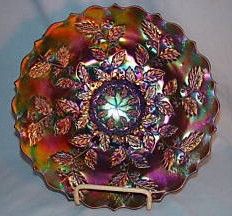 Fenton Carnival Glass Plate
The Fenton brothers started a business that has grown into the largest glass manufacturer for collectibles in the entire United States. After their business started in 1905, it has grown to a large operation currently operating out of Williamstown, West Virginia, employing over 100 employees who include glass designers, glass blowers, and the artists who actually hand paint each piece individually. These painted pieces are hand signed and dated by the artists themselves making them especially unique. Each piece, because they are finely crafted and hand painted are unique from the other items because they are made one by one.
Fenton Hobnail Milk Glass Pedestal Cake Plate
The Fenton facility in Williamstown is huge and has grown to offer tours to guests so they are able to watch these collectibles being made. There is a Fenton gift shop so guests can purchase pieces themselves while visiting. The Fenton website is also a great way to purchase new Fenton pieces, and shows its current 2009 catalog and all of its available pieces to be shipped directly to the consumer.
Fenton products can also be purchased by way of online auctions, Fenton specific collectibles clubs, and at antique shops around the country. (There's even a small Fenton eBay listings page operated by the company which offers only a handful of special, unique auctions per week!) Fenton is so well known and well respected that most antique dealers try to keep some Fenton pieces in stock. These older Fenton pieces gain value as time goes on, and many Fenton collectors pass their collections from generation to generation.
Fenton plates, as previously stated, have a wide variance of use. They also range in price and size. One of the favorite plates of collectors, the Fenton Peacock and Dahlia in Marigold Carnival on Ruby, is 6 1/2 inches in diameter and was priced new at a reasonable $69.50 from the 2009 release date. This plate is meant to be displayed. Another interesting plate offered by Fenton was the 2009 Marigold Candle Plate, meant to hold a large candle to be displayed. This plate was priced at $49.50 and has been revived the past 4 years as it is a collector's favorite. For parties, you may prefer the 12 inch Autumn Gold Cake plate, which beautifully displays a cake for your guests to see. This cake plate was sold at $79.50 new around 2009.
Fenton Winter Scene Collectible Plates
These are just a few examples of the dozens of plates Fenton has to offer, not to menton the vintage, classic collectible plates. There are many in past catalogs that can be purchased through online collectors sites and auction sites. Without a doubt, eBay is a fantastic place for finding vintage Fenton plates as well as newer pieces too, usually at great savings!
Fenton plates are a beautiful way to decorate your home and are extremely useful in entertaining.